Reading passages are adapted for dyslexic readers to be used for fluency, reading and comprehension practice. Barbara Radner, PhD., who was a director of the Center for Urban Education at DePaul University, carefully selected each one.
Passages are available for free in Omoguru Reader and they are also part of Lexie public libraries. 
Reading Passages for Dyslexic Readers Support Their Reading at Home
We wanted to support dyslexic students during this difficult period in their education. Staying at home and e-learning is really important now. That is why we're doing everything we can to support students so they can stay on track with their reading practice.
The texts are short, each followed with a set of questions for comprehension. Barbara wanted to provide ones with multiple choice questions to "enable the parents to have the children not just read but also then answer questions about the readings."
The best way to browse reading passages in our apps is to use search and type in the desired grade level.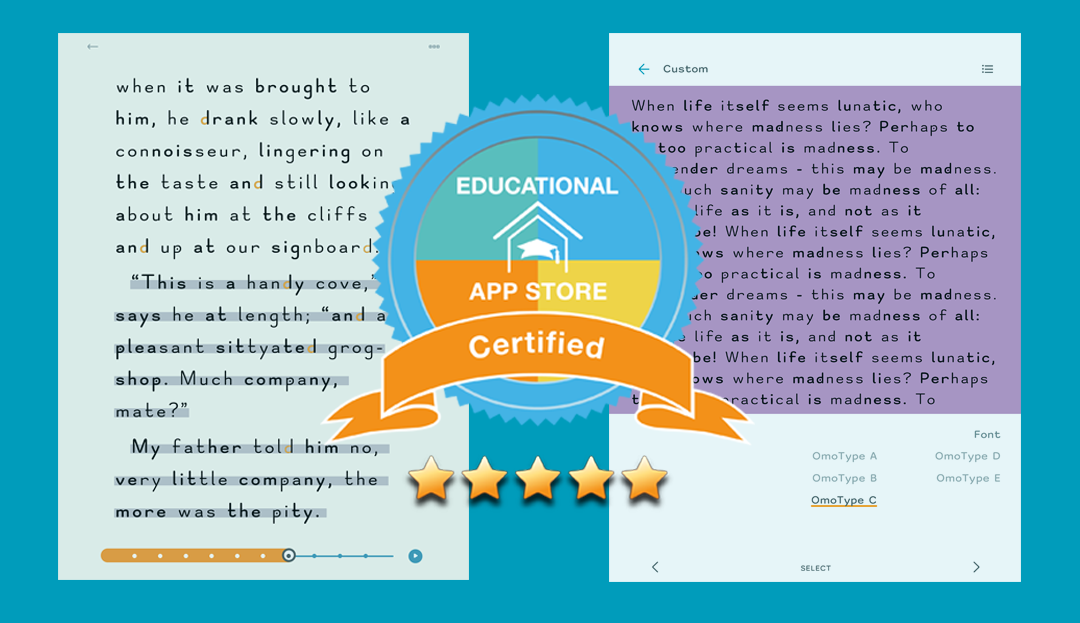 Invest 20 Minutes Per Day to Practice Fluency
All the tools available in the app for text setup are designed to make reading easier. Fluency and reading practice can't be done with text to speech apps or audiobooks. It has to be practiced. It doesn't take more than 20 minutes per day to have great results in the end. Suggested practice to improve fluency is to run 4 – 5 cycles of repeated reading. They should read aloud. Faster each time if possible. Measure the time, not to pressure the kids but to be able to follow their progress.
Research says that fluency deficits are a persistent behavioral marker of dyslexia into adulthood. So it is important to strengthen fluency. Less fluent readers often focus their attention on figuring out the words. This leaves them with little attention for understanding the meaning of the text.
Fluency is the critical link to make meaning while reading. Increased fluency results in increased comprehension. This leads to increased reading enjoyment.
That's why we've designed Omoguru Reader and Lexie to make reading easier and support dyslexic readers to read with joy